The Walt Disney Studios buildings as they appeared in the spring of 1931. The lot was located at 2719 Hyperion Ave. in Los Angeles. Notice a worker toward the top of the ladder painting the building that would be a big step toward the building of a wonderful and tremendous kingdom. The large building on the right with no windows was the sound stage. It's rumored that Walt's office was the one with the double-doors and balcony, just under the studio sign. Today, there's a Gelson's Market where the studio once stood and all that remains is a plaque by the city that reads:
"Site of Walt Disney's original animation studio in Los Angeles – 2719 Hyperion Avenue – 1926 – 1940 – Cultural Heritage Board – Monument No. 163 – Date of Declaration October 6, 1976"
At night, the Walt Disney Studios sign was lit with neon. The small sign below the large sign says "Q. R. S. Neon". QRS incorporated on August 1, 1930 with an address of 9777 Wilshire Blvd., #812, Beverly Hills, CA 90212.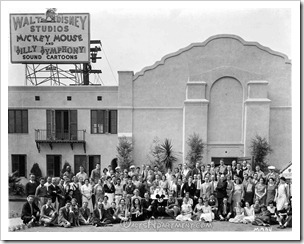 In the summer of 1932 the Walt Disney Studios crew posed for rare group photo on a beautiful day. Here are close-ups of the group photo, with the names (below) of those helped build Walt's dream.
Click here to see the tagged photo on Facebook
Front row, left-to-right: Mitch Francis, Bill Cottrell, Les Clark, Carolyn Schaeffer (behind), Hazel Sewell Cottrell, Sunnee (Walt's dog), Jack King, Bert Lewis, Martha Rose Bode, Leodore Jones, Valentine Black (Vreeland?), Marge Faulkner, Rosella Peterson (behind), Lee Batchelder (front), Madeline Porter (behind), Roy Disney.
Standing, left-to-right: Bill Garity, Paul Hopkins, Jim Lowers, Gunther Lessing, George Morris, Tom Wood (behind), Dolores Voght Scott, Grace Christensen, Emily Stafford, Margaret Walters, Mabel Andes, Helen Ogger, Florence Hammontree (behind), Albert Hurter (behind), Dot Smith, Tom Palmer (behind / hidden), Leonard Sebring, Paul Fenel, Carlos Manriquez, Wilfred Jackson, Giles (Frenchy) de Trémaudan (behind), Ed Love, Archie Rubins, Evelyn Henry (Coats), Hardie Gramatky, Sue Bristol.
Back row, left-to-right: ?, Johnny Bond, Jack Cutting, ?, ?, ?, Tom Codrick, Norman Ferguson, Harry Reeves, Fred Moore, George Gerrue (?), Frank Tipper.
---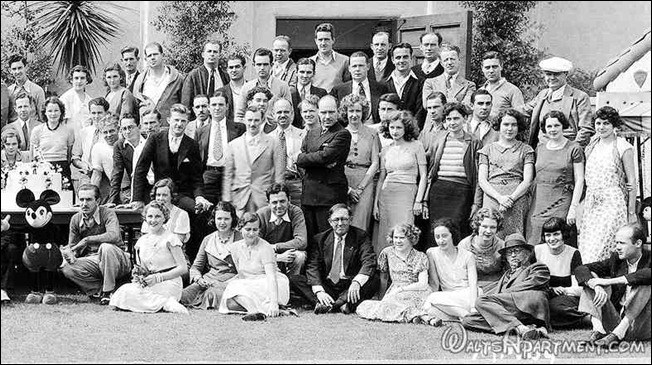 Click here to see the tagged photo on Facebook
Front row, left-to-right: Mickey Mouse, Walt Disney, Teddy Bar, Billie Porter (behind), Grace Bailey Turner, Dottie Powers Peterson, Dave Hand, ?, ?, ?, Frances Matlach, Emile Flohri, Marcellite Garner Wall, Frank Churchill.
Behind cake, left-to-right: Lucille Benedict, Jaunita Lundy, Ted Osborne, Doris de Trémaudan, Alfred Taliaferro, Ham Luske, Pinto Colvig, Lee Payne, Art Babbitt, Joe D'Igalo, Floyd Gottfredson
Chuck Conners, Eddie Strickland (rear), Ben Sharpsteen, Johnny Cannon, Burton Gillett, Margie Ralston, Louis Schmitt, Marceal Clark, Dick Williams, Frank Oreb, Katherine Kuhlman, Marie Hirt.
Back row, left-to-right: Dick Lundy, Eloise May Dewerthemer, Edna Ruth, George Drake, Roy Williams, George Miller, ?, Chuck Couch, Fred Spencer, John MacGugan, Jack Kinney, Ted Sears, Charlie Phillipi, Nick George, Hugh Henessy, Webb Smith, ?, Gerry Geronimi.
This location needs information... want to contribute and get your name out there? Send a message...
---